May 15 is National Chocolate Chip Day (There's also a National Chocolate Chip Cookie Day on Aug. 4, if you're keeping track of such things), so we figured that was as good a reason as any to spotlight a few of the healthier chocolate cookie choices on shelves.
Not surprisingly, that's much easier said than done.
It's pretty much impossible to find a truly healthy cookie on store shelves – real cookies – not protein bars flavored or shaped like cookies. We're not saying they're not out there; they're not in the many New Orleans grocery stores that we visited.
Plenty are marketed-as-better-for-you chocolate chip cookies, however, but each has its drawbacks:
The seemingly diabetes-friendly Murray's Sugar-Free Chocolate Chip Cookies are still essentially just white flour and artificial sweeteners (acesulfame potassium and sucralose) – and cookie-for-cookie, they're about the same calories and carbs as a Chips Ahoy cookie, which has 160 calories and 22g carbs for three cookies.
Vegan chocolate chip cookies may look promising, like those by the Alternative Baking Company, but feature white flour, sugar and a host of other not-exactly-nutritious-yet-still-vegan ingredients, such as potato starch, salt and an oil blend. And the stats for each are staggering: 460 calories and 34 grams of sugar in a single cookie.
Another vegan cookie showing up more often on stores shelves is Lenny and Larry's Complete Cookie with "baked nutrition" (whatever that means). Labeled as non-GMO with no dairy, no soy and no egg, each vegan cookie crams in 360 calories and 28 grams of added sugar. With more than a day's worth of sugar, these aren't much better than the Alternative Baking Company.
I was hopeful when I saw Munk Pack's Gluten-Free Protein Cookie (available online), as it has more protein (9 grams) than sugar (8 grams). Problem is, each cookie is two servings – which translates to 16 grams of sugar (and 380 calories) for a single cookie. But of the brands and stats I've seen so far, this is among the better of the options. They're individually packaged, too, which helps with portion control.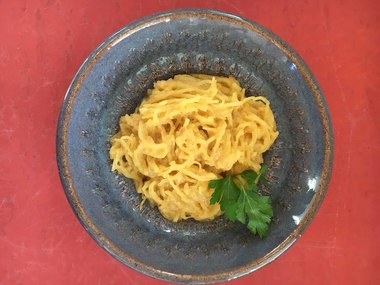 A step-by-step guide to build a better mac and cheese, plus 3 nutritious pre-packaged options and 3 good-for-you recipes
I've run across two store-bought chocolate chip cookies that are a little better in terms of carbs, calories and sugar: Aunt Gussie's Sugar Free Chocolate Chip Cookies and Emmy's Organic's Chocolate Chip Coconut Cookies, both at natural foods stores, such as Whole Foods Market.
Aunt Gussie's Sugar Free Chocolate Chip Cookies are made with a blend of refined and whole grain spelt flour (spelt is a gluten-containing grain that can be easier for some people to digest, compared to traditional wheat), with no sugar added. Sweetened with maltitol, each crispy cookie has just 60 calories, 0 sugar, and 5.5 grams of net carbs.
Emmy's Organic's Chocolate Chip Coconut Cookies are more like cookie dough than baked cookies – and you've got to like coconut. Gluten free and vegan, these grain-free "cookies" are made with coconut, agave, chocolate chips, almond flour, and coconut oil. Each cookie bite has 100 calories, 8 grams of carbs and 6 grams of sugar. Our informal group of taste testers agreed that they could do the trick to satisfy a hankering for a chocolate chip cookie.
Five easy ways to build a better-for-you Eggs Benedict, plus a recipe for the delicious and nutritious Smoked Salmon Benedict from The Ruby Slipper.
We couldn't find just what we were looking for on shelves, so we tested out a batch of recipes, and narrowed it down to the three below so we could build a better chocolate chip cookie ourselves.
All are made with little or no added sugar and fiber-rich whole grains, flours or legumes; all three are gluten-free, and one is vegan….