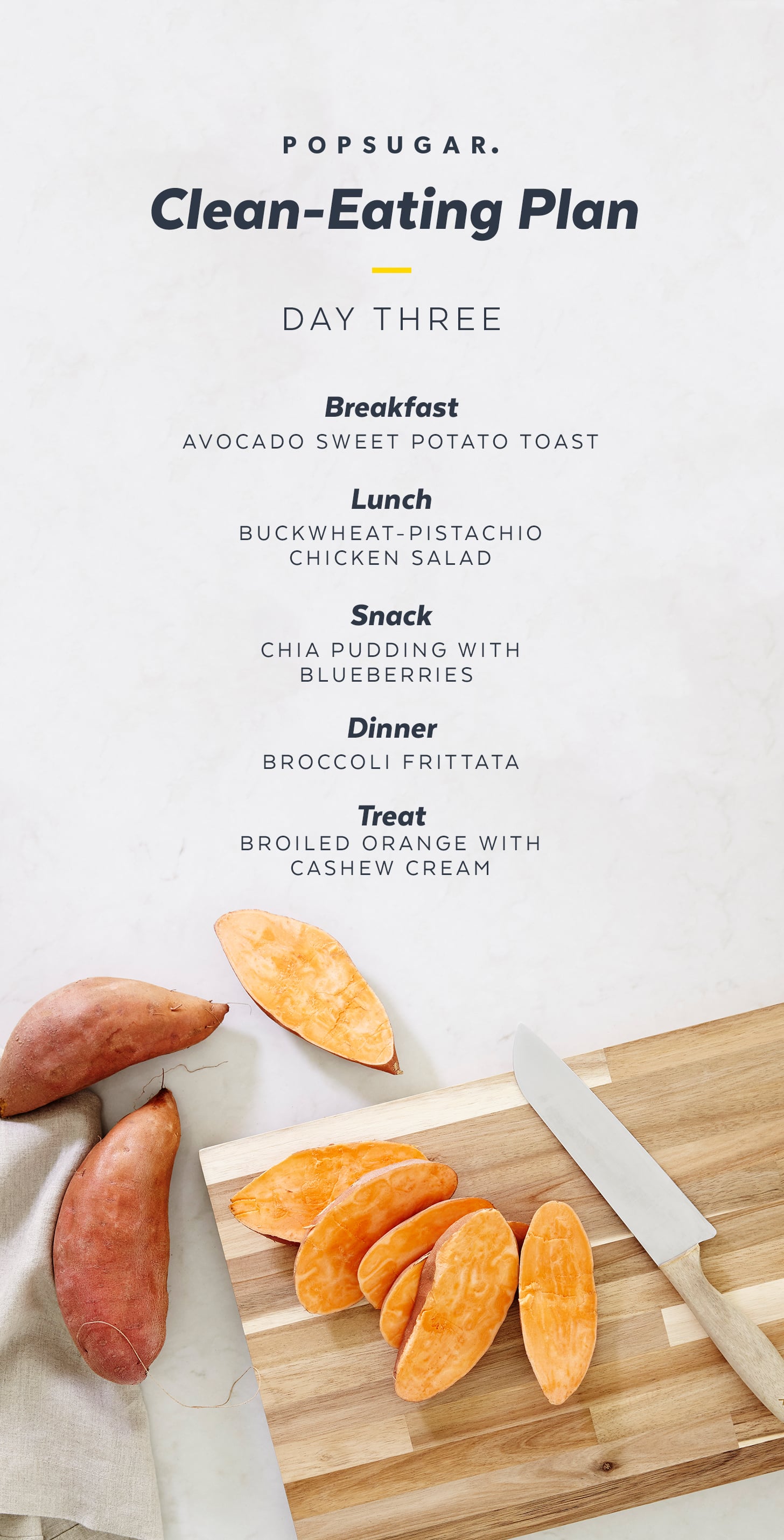 Who needs bread? Sweet potato toast is all the rage these days, so let's try it together for today's breakfast.
Prep Ahead
For cashew cream in tonight's treat, cover 1/3 cup of cashews with at least an inch of water and soak for at least 1 hour, and up to 12 hours. If soaking for longer than an hour, store in the fridge.
1 medium sweet potato, sliced into 4 1/4-inch slices
1 teaspoon olive oil
1 hard-boiled egg
1/2 an avocado, sliced
Pinch salt (optional)
Pinch pepper (optional)
Pinch paprika (optional)
1/2 a pear, sliced
Brush 2 of the sweet potato slices lightly on both sides with the olive oil.
Store the other half of the potato in an airtight container for use on Day 5.
Toast the oiled sweet potato slices on high setting until sweet potato slices are soft and cooked through. Note, you may need to toast them 2-3 times.
Layer the sweet potato slices with half an avocado, sliced, and 1 sliced hard-boiled egg. Sprinkle with salt, pepper, and paprika if desired.
Serve with the sliced pear.
NUTRIENT TOTALS
Calories: 327.6
Protein: 9.091 grams
Carbohydrate: 31.7 grams
Dietary Fiber: 9.196 grams
Total Sugars: 13.4 grams
Total Fat: 20 grams
Saturated Fat: 3.732 grams
Sodium: 165.3 milligrams
1 1/2 tablespoons mayonnaise
2 teaspoons apple cider vinegar
1/8 teaspoon salt
1/2 cup cooked buckwheat (left over from Day 1 dinner)
3 ounces of leftover chopped garlic mustard chicken (left over from Day 2 dinner)
1 tablespoon chopped pistachios
1/2 cup shredded carrots
1/4 cup chopped cucumber
1/4 cup chopped apple
2 collard leaves
In a medium bowl, stir together mayonnaise, apple cider vinegar, and salt until combined.
Add buckwheat, chopped chicken, pistachios, carrots, cucumber, and apple, and stir to incorporate dressing.
Roll mixture up in 2 collard leaves, folding over both ends, then rolling like a burrito.
NUTRIENT TOTALS
Calories: 436.3
Protein: 27 grams
…